The Campo Viejo Tapas Trail concept is simple and fun: go from restaurant to restaurant, eating tapas and drinking wine.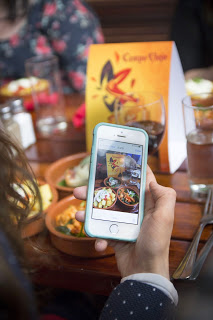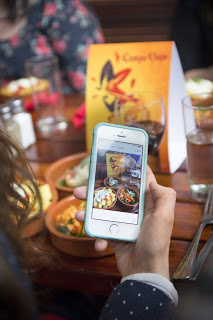 We started in the newish Drury Buildings. The highlight here was a lamb meatball, which we were later given the recipe for. Dave liked Drury Buildings enough to return within a few days of the Tapas Trail – the little walled garden and the first-floor balcony are pleasant, although the wine selection was disappointingly limited. The leisurely stroll around the block towards the second venue featured a brief diversion while the restaurant prepared for our arrival. Our tapas guide gave a talk about… ah, this and that; he was an entertaining speaker. There was a bit about Dublin, a bit about tapas, and a bit about the wine company Campo Viejo. Since this review isn't an advert, we'll simply say that we approve of their sponsorship of street art, and suggest that this is a more natural fit than the bizarre "sports = beer" concept so many drinks companies seem keen on.
So, venue two: The Market Bar. More wine and a good selection of tapas including Patatas Bravas and a delicious piri piri chicken. One of the nice aspects of the tapas trail is that groups get shuffled around, so we found ourselves mingling with different people at each location.
The next restaurant was Zaragoza on South William Street. Zaragoza, like Drury Buildings, is a good example of the improvement of the Drury Street and South William Street area in recent years. (Did Zaragoza's venue used to be a golf shop?) It's bright and airy, the staff were friendly, and we liked the food. The highlight was the 'Mini Pig Burger'. Mmm. We definitely want to give Zaragoza another visit.
The final stop was Bagots Hutton (or "BH"), also on South William Street. It's a basement-level wine bar with a lot of character and the faintest hint of a musty smell. [Dessert isn't my specialist subject so I'll leave Claire to comment.] As we were there for dessert I can't make any judgement on the food or wine in BH in general, although for whatever it's worth a girl I know ran them out of the wine she and her friends were drinking one night. Maybe it was good wine? More evidence will be required before BH can be given a yay or nay. Claire adds "we had just a very tiny portion of banoffee pie here, it was good but I could have done with about 3 more. I've been on another occasion to BH and found the cheese board excellent with a good wine list."
At just €25 the Tapas Trail is excellent value – we can only presume everyone involved (correctly) regards it as good PR, and prices accordingly. The bad news? Tickets are hard to get. But if you're not able to get one for this year, well, there's always next year, and of course you can try out each of the restaurants and DIY-up your own tapas trail. Oh – and if you fancy a coffee afterwards, Clement & Pekoe just across the road from BH is nice.